What to Expect at Trinity Chiropractic & Natural Health Centre
If you've ever gone to a social event where you didn't know anyone, you know how uncomfortable that can make you feel. Our goal is to eliminate every shred of apprehension and make you feel at home.
Since chiropractic care involves a series of visits, with each one building on the ones before, it's important that our relationship can go the distance. We've found that one of the best ways to have successful patient relationships is to explain everything in advance. No surprises!
The more you understand who we are, what we do and why we do it, the better results you'll enjoy. It's as simple as that.
To see and understand how chiropractic works, check out the following link http://www.youtube.com/watch?v=dhN0i1WXBuI
So, check us out here. Poke around. Get to know us. Then, contact us to make an appointment so we can get to know you.
First Visit. To find out if we can help you, we ask questions and listen.
Second Visit. We'll report what we found and answer all your questions.
Regular Visit. A typical visit will be much shorter, but just as important!
---
Your First Visit to Trinity Chiropractic & Natural Health Centre
On your first visit to our office you will be welcomed by one of our Chiropractic Assistants, they are there to facilitate the Chiropractor and make sure everything runs smoothly for you. You will have to fill in a New Patient Form which provides basic information about the issues you would like to address and the purpose of your visit.
The purpose of your consultation with the doctor is to discuss your health goals and see if chiropractic is likely to help you. If it looks promising, a thorough examination will help identify the cause of your problem.
Patients appreciate that we explain everything so they understand their health like a Doctor!
---
Your Second Visit to Trinity Chiropractic & Natural Health Centre
On your report visit we explain what we found and how we may be able to help you.
After we study your health history and correlate our examination findings and other diagnostic test results, we'll make recommendations designed to help you get and keep your health. We call this the Report of Findings.
This is usually attended to on your second visit, which may be later the same day or the following day. This two-visit approach accomplishes several things:
Reduces the length of your first visit
Gives us time to correlate our findings
Avoids overloading you with too much information
In certain situations, and in the professional judgment of our Chiropractors, we sometimes make exceptions. It just depends on your unique situation.
---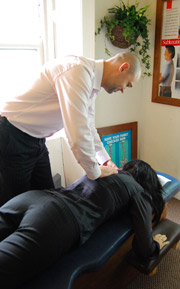 Regular Visits
After the investment of time needed on the first and second visits to develop your care program, you will get to the most important visit. The regular visit. But don't think of it as something just 'regular', its where we carry out the program specifically devised for your and your health. It will incorporate physical work on the spine, nerves and muscles and advice on exercises and lifestyle, it might even include work on your nutritional program.
Like a regular workout at the gym, each visit builds on the ones before. Miss a visit and you can lose the momentum necessary to make the needed changes. You will be constantly reviewed and each visit we will measure your progress. Keep to your care schedule for best results!
We recognize your time is valuable. So we do everything possible to run on time and minimize the impact on your busy life.